Craft supplies in Kendal

Fantastic arts and crafts 'Aladdin's Cave' in the heart of Ke
ndal. We are a proper, practical, hands on craft shop for your card making and scrapbooking, paper crafting, needle felting, cross stitch, knitting, fat quarters and kits for the kiddies. We don't sell expensive designer 'gadgets' that you will use once and shove in the back of the cupboard - just good reliable crafting tools and supplies for you to craft with. From the basic tapes, glue, card - through the fancy 12" pape
rs, embellishments - to the great selection of kits of all kinds - including our very own range of knitting patterns. There is a growing range of jewellery bits and bobs - with the yummiest agate and semi-precious beads. Plus I have a new supplier of fabrics - so we have a small range of 100% cotton fat-quarters - sewing threads - 30% wool felt squares - 6" tulle netting - work boxes - sewing kits. oh - and don't forget the glass / fabric / acrylic paints! OH - and Robin Yarns and King Cole have taken us on as an agent - so we have access to all their products too.
So much in such a tiny space!

We are now agents for Robin yarns and King Cole - yeah!!!!!
So many pretty colours - and loads of different yarns.
We now have 4 ply yarn in stock - and some fluffy and - of course something sparkly
More to the range - the DK cotton yarns are arriving for summer - sparkly for Christmas - so drop in for a chat and a nosy
My speciality is working with beginners to start them off on their knitting journey - never worry about popping in and asking for help - I am always happy to help.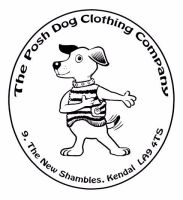 We are proud to announce that we are now the home of The Posh Dog Clothing Company - an exclusive range of handmade dog wear. Unique hand knitted jumpers - fleece and waterproof coats - long-lasting toys (with noises and without) - super strong and soft braided leads - seriously pretty collars and accessories. All the range is hand-made in the Lake District - each piece is unique and is known for the bright, happy colours. Stand out from the crowd with a Posh Dog jumper and lead. Available on-line HERE
Opening hours -
Sunday CLOSED
Monday CLOSED
Tuesday 10am - 4pm
Wednesday 10am - 3pm
Thursday 10am - 4pm
Friday 10am - 4pm
Saturday 10am - 4pm